Does the Contact Plugin work on LinkedIn?
Visual Visitor's Contact Plugin works on business websites
and
LinkedIn pages.
When you find a promising lead on LinkedIn, you can click on the Plugin icon to uncover hidden details including their cell phone number, office address, skillset, and more. This information will pop up on the right-hand side of your screen.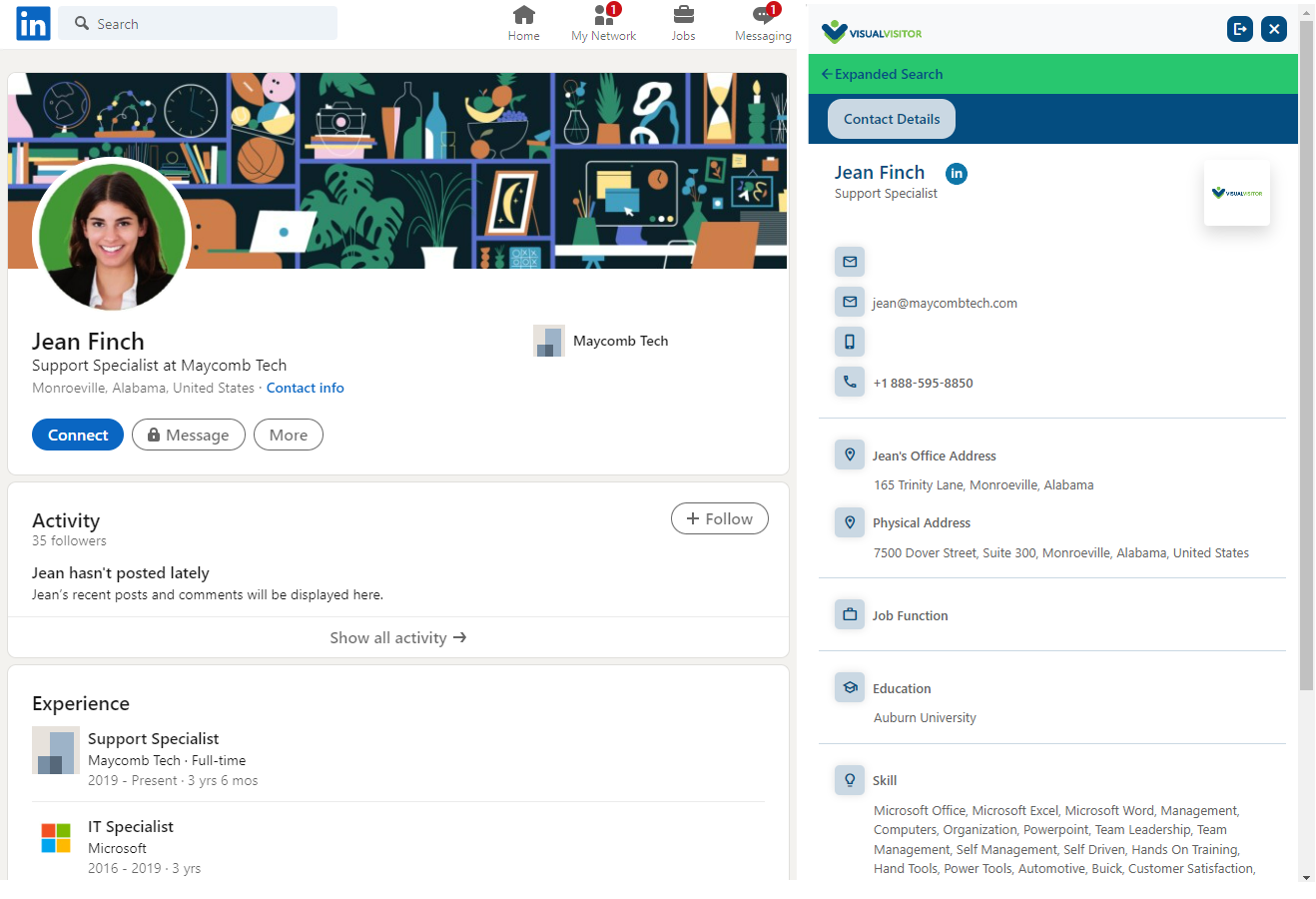 At Visual Visitor, we're determined to make prospecting as seamless as possible. The Chrome Plugin expedites this process by allowing you to quickly research and evaluate leads without leaving his or her LinkedIn profile.

Interested in using our Contact Plugin? Click
here
to read more about its benefits.
Related Articles

How to View a Saved Contact on the Plugin

The quickest way to prospect is to work in stages. This entails saving contacts and then revisiting them in the future when you have time to evaluate them. Luckily, the Plugin makes it easy to access contacts once you've saved them. All you have to ...

Where Do I Find the Who to Contact Plugin for Who to Contact?

Visual Visitor's Contact Plugin is available in the Chrome store here. The installation process is simple. You can find our step-by-step guide here.

What Is Visual Visitor's Who to Contact Plugin

Our Who to Contact Plugin operates just like our database, only faster. By clicking on the Plugin icon, you can easily uncover business data, including contact details for employees. Simply put, it makes prospecting easier. Instead of opening ...

The Benefits of Using Visual Visitor's Who to Contact Plugin

Researching leads can be a tricky, time-consuming task. Not every business has an active online presence. And even those that do are providing only so much information. Fortunately, Visual Visitor is equipped with a variety of tools that make ...

How many users can I have on the Who to Contact Plugin?

The short answer is unlimited. Any user set up on your Visual Visitor account can access and use the Who to Contact Plugin. This allows your team to divide and conquer, so to speak. Each member can identify and save their own leads. Curious about our ...