Visual Visitor WordPress Plugin Installation
Visual Visitor Installation Instructions:
To install the Visual Visitor plugin:
Click on the Download button above.
Go to the Plugins section from your WordPress dashboard.
At the top of the window, click on Add New.
Next click Upload Plugin.
Click Choose File and then choose the file downloaded in the first step – visual visitor-plugin.zip.

Click Install Now.
You will see the following:

Click the Active Plugin option.
Now to the main menu and click on Settings, then Visual Visitor.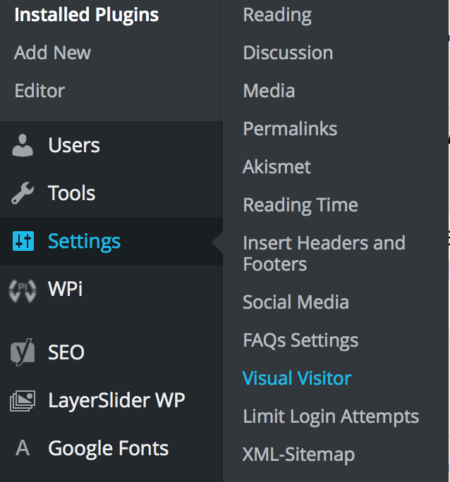 This will bring up your Visual Visitor configuration window.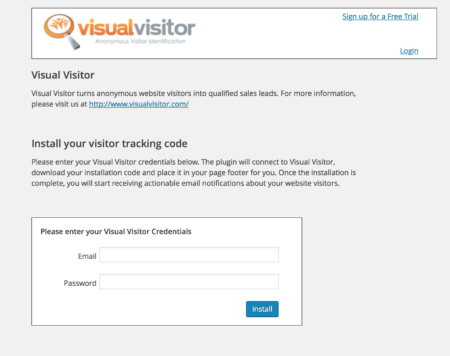 Finally, enter your email address and password that you created for your Visual Visitor account.
Related Articles

How do I install Visual Visitor in WordPress?

Installing Visual Visitor in WordPress is a fairly straightforward process. Please follow the steps listed below - Login into your WordPress site and click appearance Then click editor There you will find the file named footer.php (before editing ...

WordPress Plugin on Mac

You may run into the following issue when using a Mac. Question: When downloading .zip files on mac the .zip file automatically becomes unzipped. How do I install the WordPress plugin without the .zip file? Answer: Do the following so your zip files ...

Adding Visual Visitor Script on DotNetNuke website

Note: The steps for installing Visual Visitor on dotnetnuke websites differs from website to website. The installation procedure varies, depending on how your website is built. The best way of putting the tracking code into your website is by putting ...

What is Visual Visitor?

Visual Visitor is a set of Sales and Marketing Enablement tools that turn anonymous website visitors into qualified sales leads. Without any registration forms, Visual Visitor identifies who is on your website and what products or services they are ...

Visual Visitor Cookies

What are cookies? Cookies are small text files placed on your computer by websites and sometimes by emails. Cookie names usually include a unique visitor ID and the name of the website. Visual Visitor cookies are named: vv_session_id vv_visitor_id ...