Email Campaign Integration - A Step-by-Step Guide
Visual Visitor can now be integrated with your current email campaign strategy! This feature allows you to track email addresses that come to your site through your email blasts. All you have to do is to add the code we create (similar to the code you added to your website) to the links in your email campaign. This code tracks the visitor and will include their email address in our real-time alerts.
Use the following steps to create an email campaign link to integrate with your mailing platform. Be sure to note the examples provided for you.
Log in to the dashboard. app.visualvisitor.com




"Configuration" menu --> "Email Campaigns".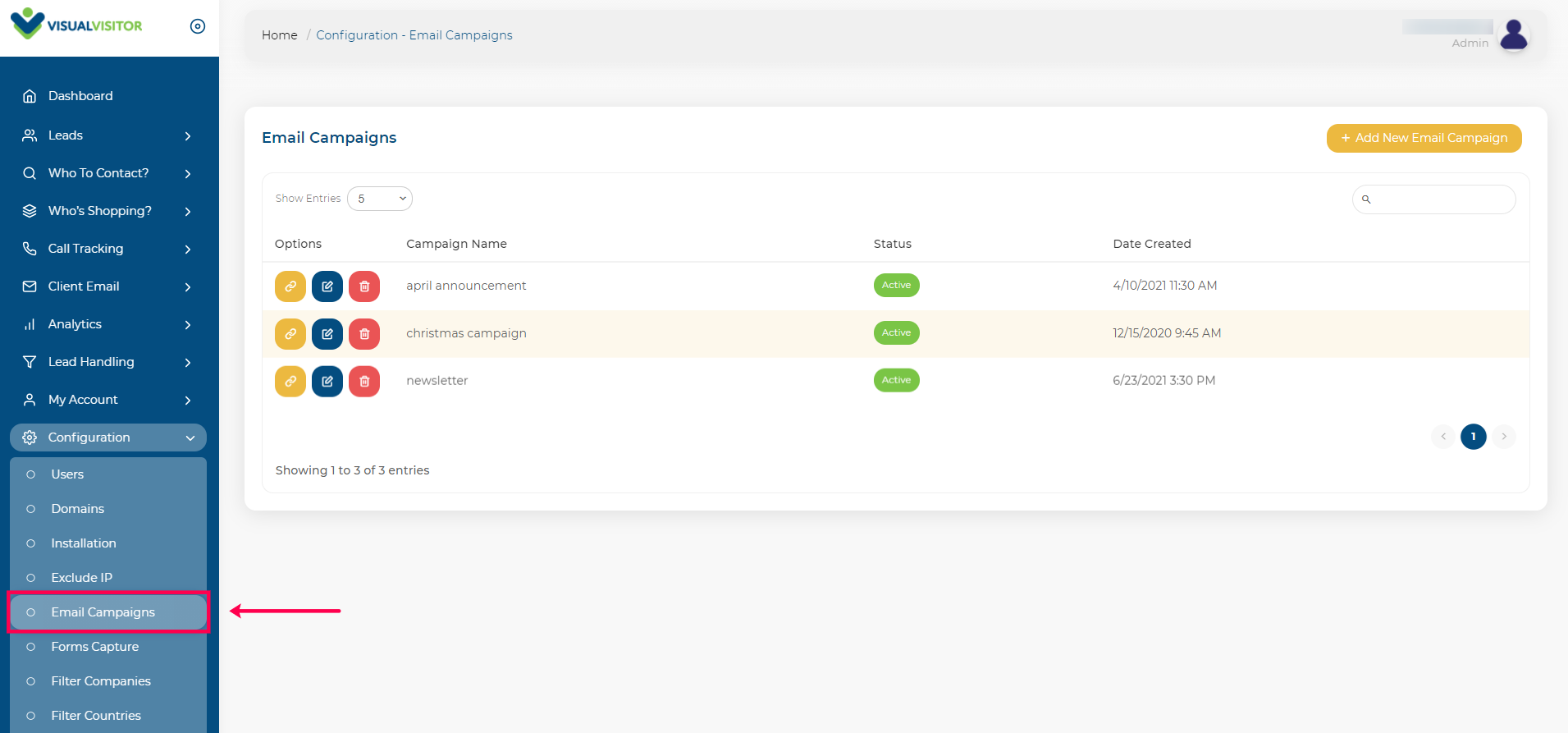 Click on "Add New Email Campaign".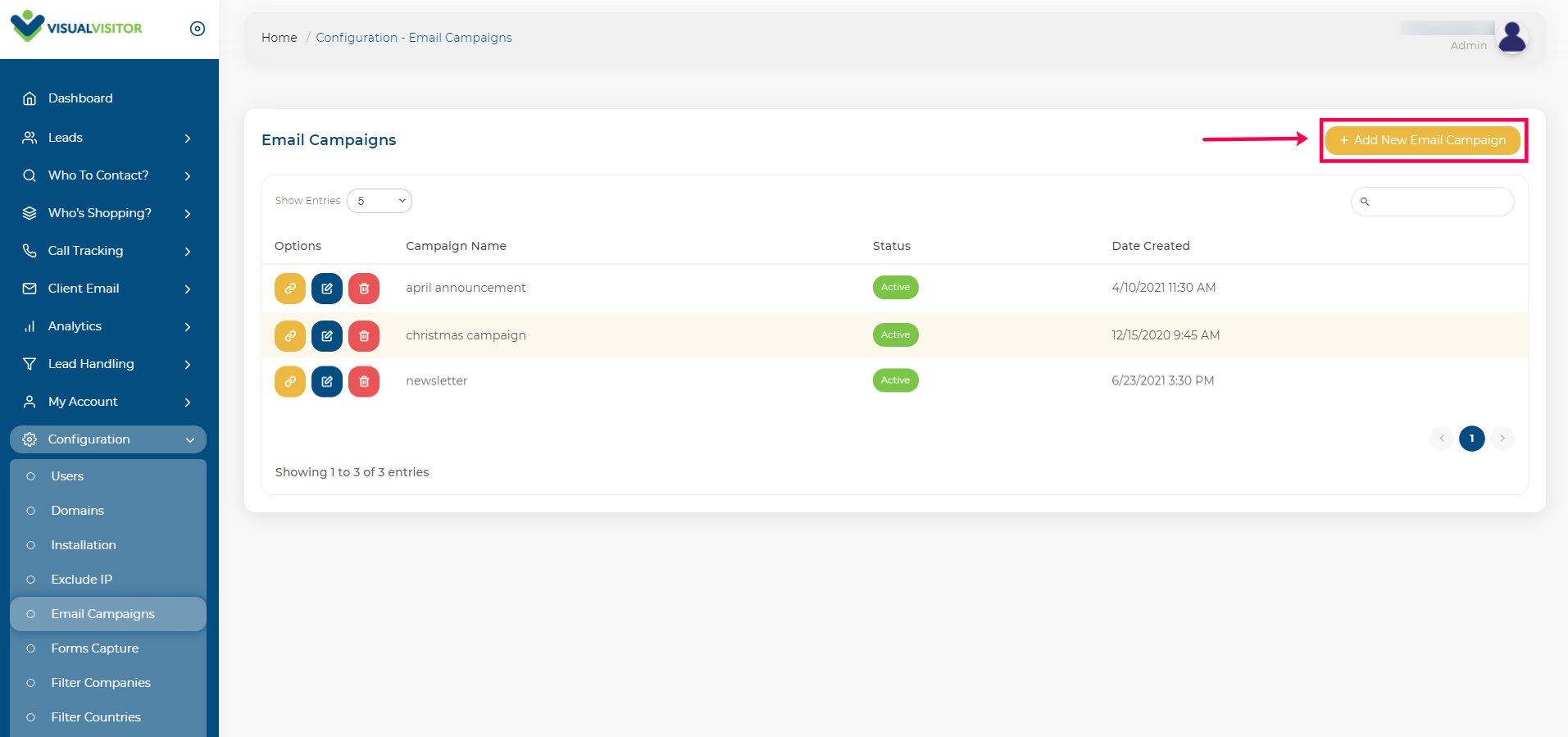 Give the Campaign a "Campaign Name". As well as filling in the optional fields.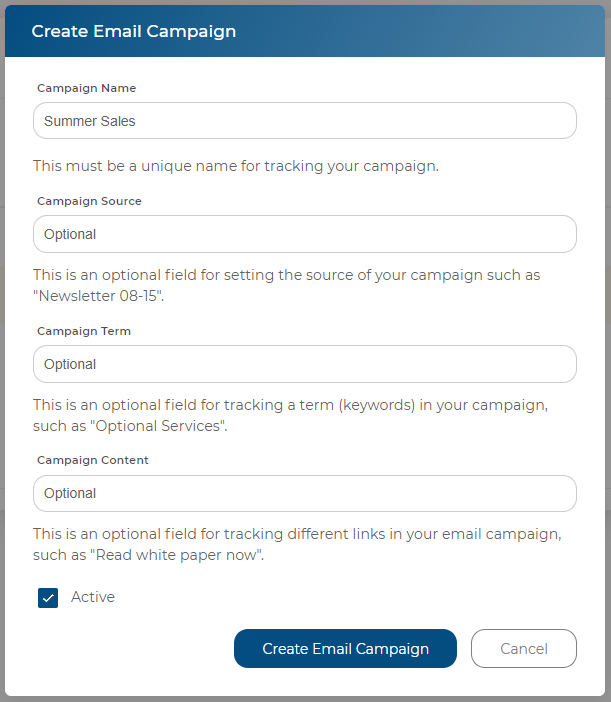 Click on the "Create Email Campaign" button.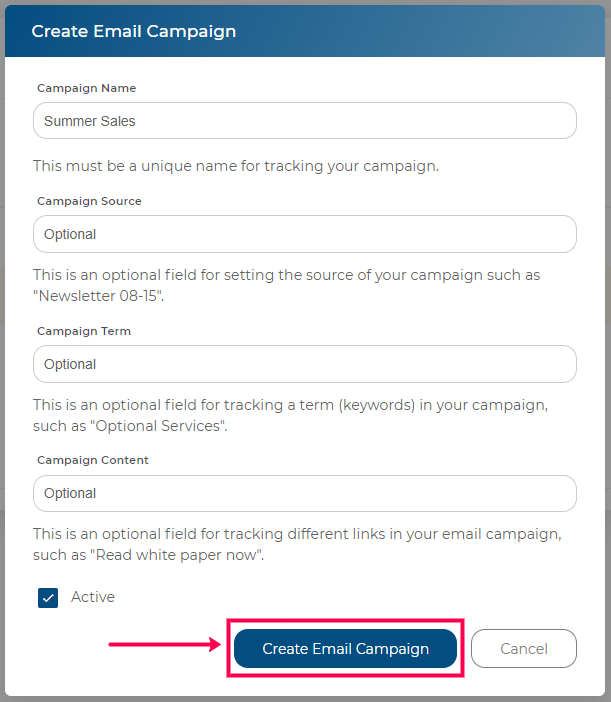 Find the campaign you just created on the list, then click on the "Yellow" box under options.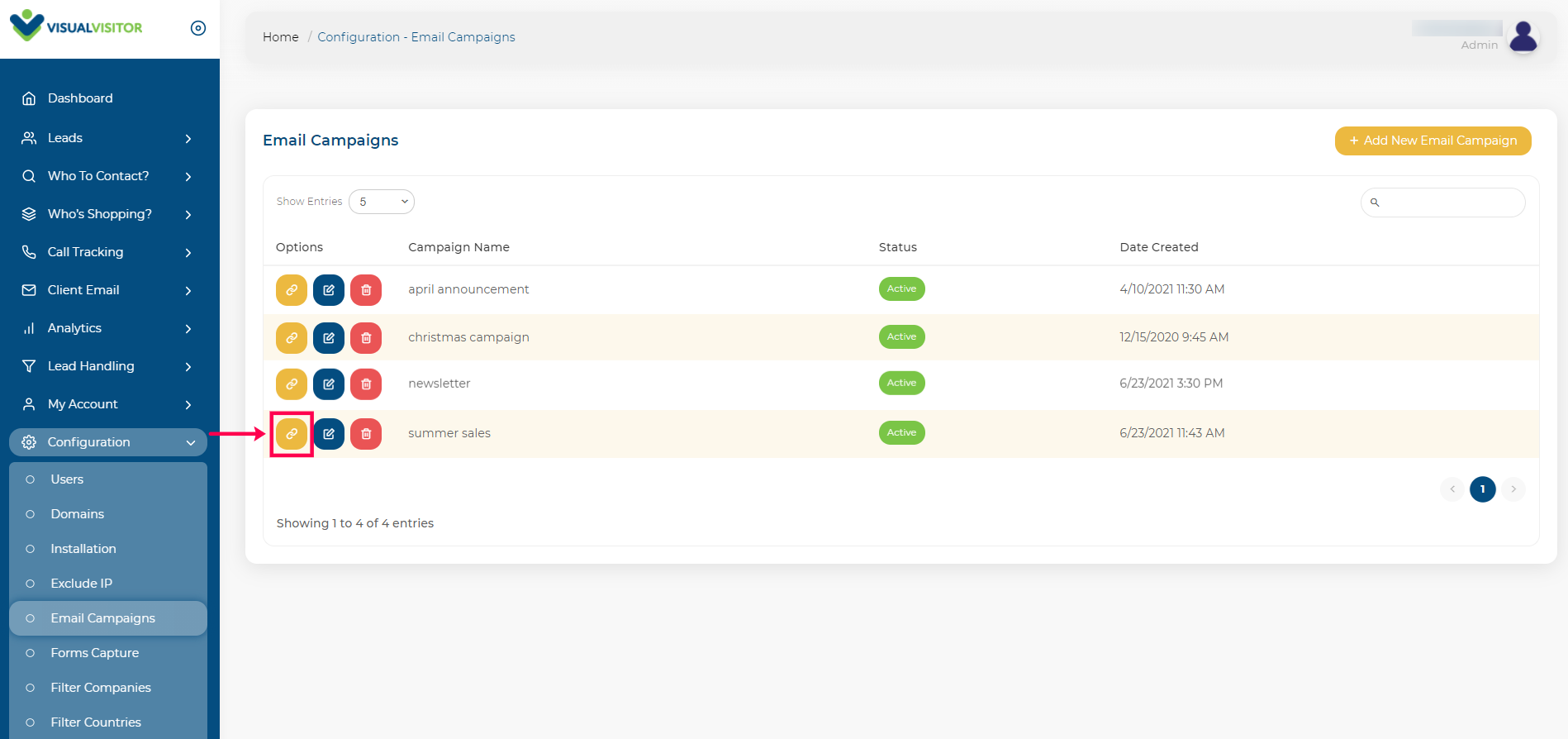 Choose you email platform from the "Select Campaign Type" drop-down menu .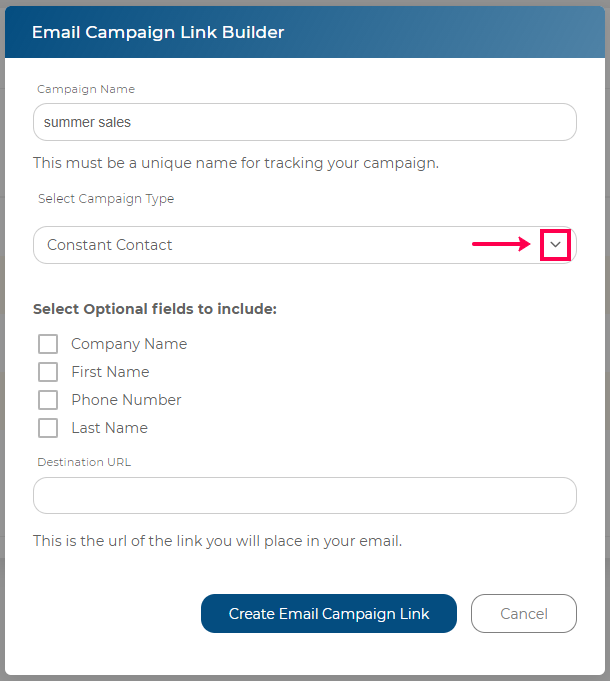 Select the optional fields of "Company name", "First Name", and "Last Name".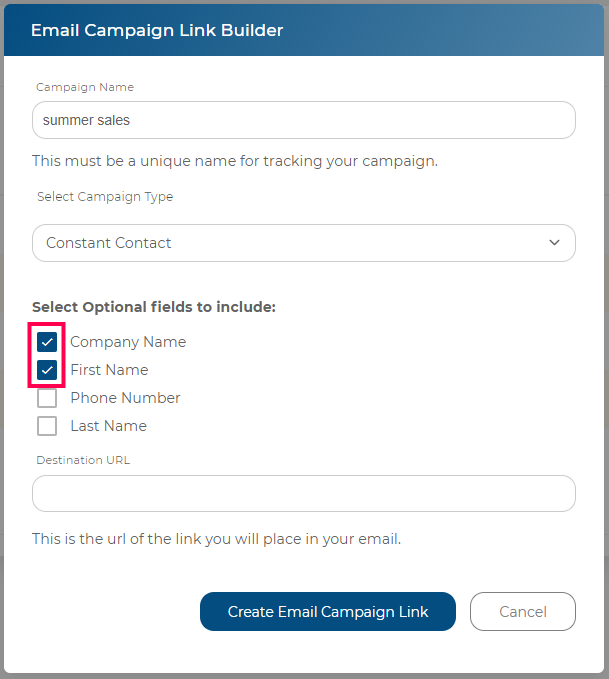 Paste in your destination URL.




An example would be

https://www.visualvisitor.com/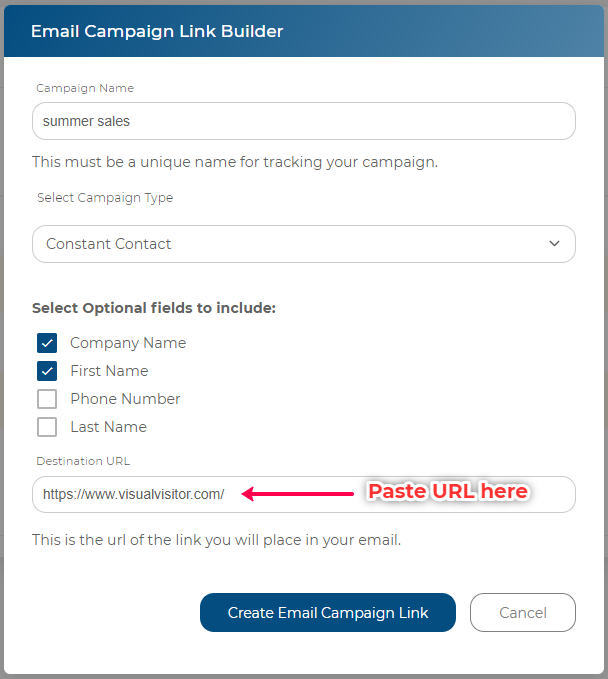 Click on the "Create Email Campaign Link" and copy the code generated for you.



Once you have copied the code, paste it into the CTA (Call to Action) of your email.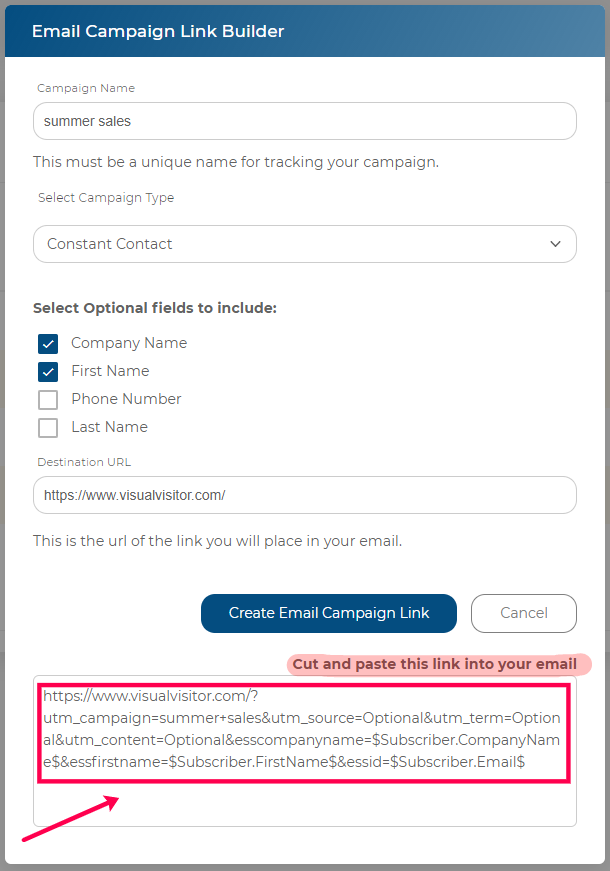 If your Email Campaign system is not listed from our drop-down menu, reference our guide for integrating with
Other Systems
.
Related Articles

Active Campaign Connector

What Is a Connector? Visual Visitor offers a great feature called Connectors. Connectors automatically connect emails and newsletters using programs such as Active Campaign, which we will discuss in this article, to easily get your leads into your ...

Adding the Active Campaign Connector

What Is a Connector? Visual Visitor offers a great feature called Connectors. Connectors automatically connect emails and newsletters using programs such as Active Campaign, which we will discuss in this article, to easily get your contacts into your ...

+Person Web ID Webhook Integration

Integrate our data with any system you like! Webhook Notifications (per user, available to all users) Data Format JSON - (JavaScript Object Notation) is a lightweight data-interchange format. It is easy for humans to read and write. It is easy for ...

Email Campaign Guide for "Other Systems"

Use the following steps to create an email campaign and replace the correct mapping variables. Be sure to note the examples provided for you. 1. Log in to the dashboard. app.visualvisitor.com 2. "Configuration" tab --> "Email Campaigns". ...

Email Octopus Connector

What Is a Connector? Visual Visitor offers a great feature called Connectors. Connectors automatically connect emails and newsletters using programs such as Email Octopus, which we will discuss in this article, to easily get your contacts into your ...