Validating the Contact Records - Breaking Down the Email Scores
Have you noticed numbers next to a contact you searched?
Each lead for Visual Visitor comes with an email score between 0-100. This scale is basically a database confidence level of the email contact you have looked up.
Why Do I See Two Numbers?
When searching for contacts in our database or with our Chrome plug-in, you get two scores. You'll see one in grey and one in blue. The grey score is a historical score. This is the confidence level of their previous or "historical" email address.
The blue score is their current score or "real-time" email address confidence score.
After researching a contact you will sometimes see "pending" instead of a score. This is the database working its magic and it will get back to you with a confidence score.
I Used a Credit and the Scores are Low. Was That a Waste?
No, it was not. If you used a contact credit and the real-time score is 40 or below, you will be refunded your credit.
What Makes a Good Confidence Score?
A good confidence score is 50 or above.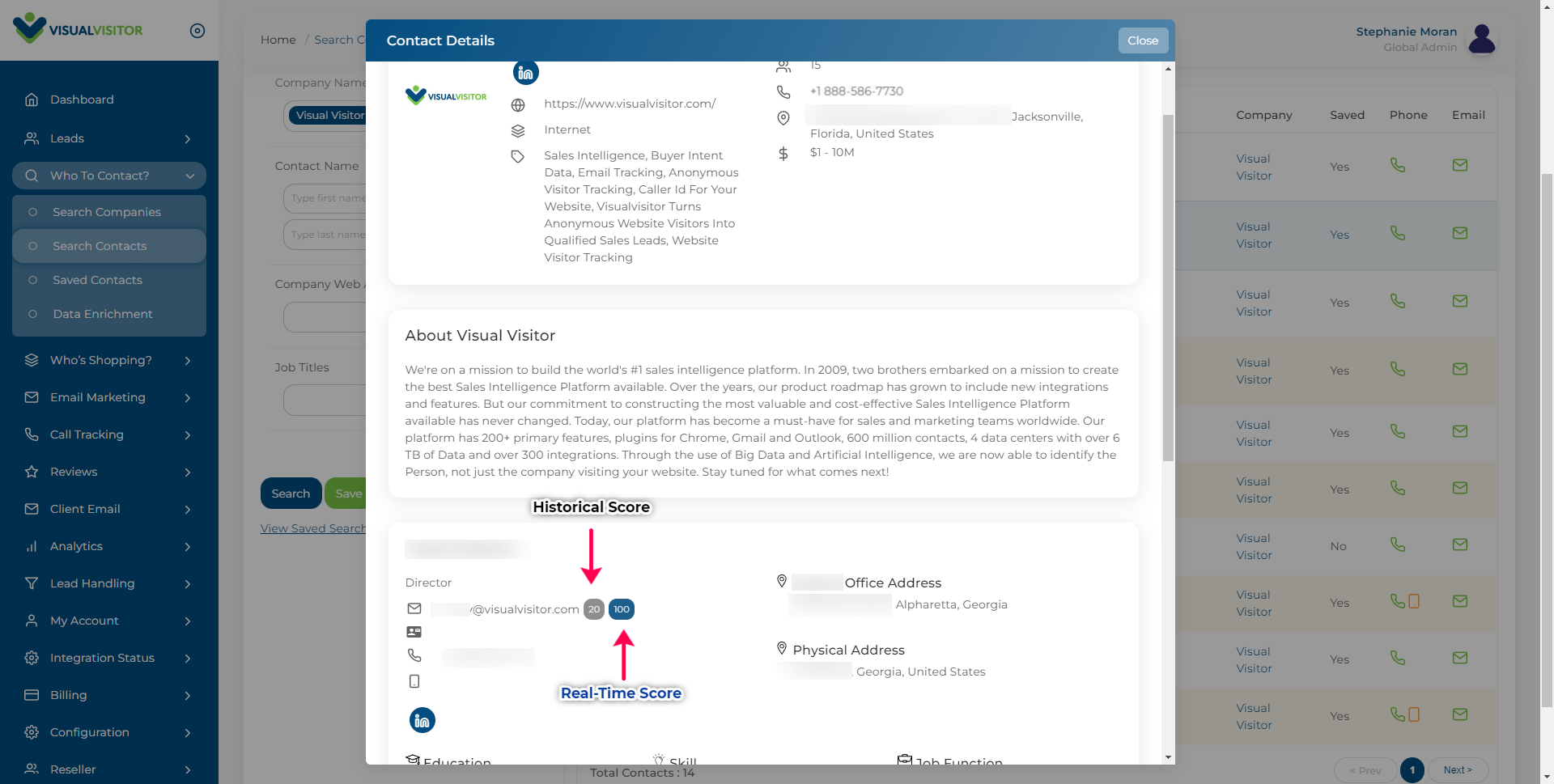 To Get to Your Contact Screen: In your Dashboard go to 'Who To Contact -> Search Contacts' and begin filling out the information of the company or person you are searching for.

Alternatively, you can use our Chrome Plug-Ins for directory look-up while you're on a company website.

Want to learn more about our Chrome Plug-In?
Click
here
.
Related Articles

Understanding the Email Confidence Score

The Email Confidence Score evaluates how likely an email address is to be accurate. Our software utilizes artificial intelligence to verify the authenticity of email addresses. We assign scores based on the criteria displayed in the chart below. The ...

Email Marketing, Identified Visitors, and Email Averages

Email Marketing + Identified Visitors Email marketing is a powerful marketing tool that promotes your company. It promotes your company by helping keep you front of mind for customers. Visual Visitor is an excellent tool to have for your email ...

Email Marketing and Visual Visitor +Employee

Can Visual Visitor send my email for me? No. Visual Visitor can not build or send your emails for you. What does Visual Visitor provide for my email marketing? A shallow overview, Visual Visitor is your contact data base that identifies your website ...

Why did my email bounce?

When Visual Visitor uncovers an email, it goes through a series of checks by our system. However, it's important to note that employment emails are not validated within the Plus Person (B2C) product but are instead validated within the Plus Employee ...

Email Confidence Score: Historical vs. Real-Time

The Email Confidence Score helps you evaluate which email addresses are up-to-date. An email address that receives a score of 80 is more likely to be accurate than an email address that receives a score of 45. You can use this feature to determine ...